Hospital Acquired Infections:
American hospitals' "dirty little secret"
Hospital acquired infections, which are also referred to as "nosocomial" or "healthcare acquired" infections, have been recognized for over a century as a critical problem affecting the quality of healthcare and a principal source of adverse healthcare outcomes. Among all of the major complications that occur during hospitalization, nosocomial infections account for more than 50%. 1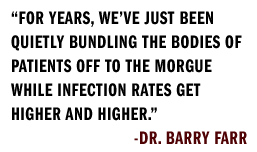 Hospital acquired infections affect around 2 million individuals every year, resulting in approximately 90,000 annual deaths in the United States alone.2
Incredibly, hospital infection deaths represent the fourth leading cause of death among Americans (behind heart disease, cancer and strokes), and nosocomial infections kill more people in our country each year than car accidents, fires and drowning combined. 3 Currently in the United States, a patient dies of a hospital acquired infection every six minutes. 4
"The number of people needlessly killed by hospital infections is unbelievable, but the public doesn't know anything about it" said Dr. Barry Farr, a leading infection-control expert. "For years, we've just been quietly bundling the bodies of patients off to the morgue while infection rates get higher and higher." 5
And yet at the same time, the agency that inspects American hospitals to insure that all federal safety and quality standards are met, claims that 90% of these facilities are in good or acceptable compliance in infection control! 6
The Centers for Disease Control and Prevention (CDC) defines a nosocomial infection as a localized or systemic condition (1) that results from an adverse reaction to the presence of an infectious agent(s) or its toxin(s) and, (2) that was not present or incubating at the time of admission to the hospital. For most bacterial infections, this means that the infection usually becomes evident 48 hours or more (the typical incubation period) after admission to the health facility. Surgical site infections (SSIs) occur within 30 days after an operative procedure, and between 12% and 84% of SSIs are only detected after patients are discharged from the healthcare institution. 7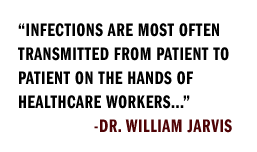 Nosocomial infections have for years been falsely characterized by the healthcare industry as random and inevitable byproducts of lifesaving care. Almost all of these infections, however, are not "unavoidable complications" and don't "just happen." The healthcare industry's penchant for secrecy and a lack of any meaningful oversight cloak the extent of the problem that exists in our nation's hospitals. It is interesting to note that even the term adopted by the CDC—nosocomial—was intended to obscure the true source of the germs (it is derived from Latin and means hospital acquired). CDC records show that the term was used to shield hospitals from the "embarrassment" of germ-related deaths and injuries. 8 (See, Lack of Disclosure).
A 2002 Chicago Tribune undercover investigation found that in the year 2000, nearly three-quarters of deadly hospital acquired infections were preventable, the result of unsanitary facilities, germ-laden instruments and unwashed hands. 9 The industry's desire for secrecy also obscured a disturbing trend which the Tribune investigators found buried within government and private healthcare records: Infection rates are soaring nationally, exacerbated by hospital cutbacks and carelessness by doctors, nurses and other healthcare personnel. 10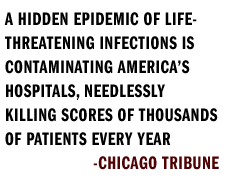 The vast majority of all nosocomial infections are transmitted by contact from patient to patient via the hands of healthcare workers (HCWs), and this type of transmission is well-documented. 11 The hands of HCWs are only transiently contaminated however, and appropriate hand hygiene measures are sufficient to remove the pathogens and to stop the transmission to patients. In other words, hand washing is the simplest and most effective method to reduce the incidence of nosocomial infections. 12 Despite this well established relationship, compliance with hand washing has consistently been unacceptably poor among all types of healthcare workers. 13
Currently, hand washing or hand hygiene rates in the United States average 40 percent to 60 percent "on a good day," says Robert Weinstein, M.D., from Cook County Hospital in Chicago, 14 and that appears to be the historic norm. 15 According to most experts, more than half to three-quarters of all nosocomial infections could be prevented if healthcare workers strictly followed hand washing procedures. 16
The CDC publishes various guidelines for the prevention and control of nosocomial infections. These guidelines, however, are non-enforceable due to the fact that the CDC is not a regulatory agency. Accordingly, the CDC now estimates that as many as one-third of all U.S. hospitals fail to follow its guidelines for hand washing and other basic infection control precautions, even though strict adherence to clean-hand policies alone could prevent the deaths of up to 20,000 patients each year. 17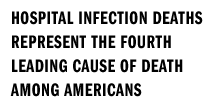 Why do our nation's HCWs continually fail to adequately wash their hands? The answer, unfortunately, remains extremely elusive. Some of the reasons that have been suggested for such poor hand washing include the lack of priority over other required procedures, insufficient time, inconvenient placement of hand-washing facilities, allergy or intolerance to hand-hygiene solutions, and lack of leadership from senior medical staff. 18 (See, Why Don't Doctors and Nurses Wash Their Hands?).
Whatever the reason, hospital physicians appear to be the worst offenders. The Annuals of Internal Medicine recently reported that hand washing rates among hospital physicians still remain unacceptably low at 57%, 19 although this finding demonstrates a slight improvement over previous studies. In their recent book entitled Internal Bleeding, The Truth Behind America's Terrifying Epidemic Of Medical Mistakes, Drs. Robert Wachter and Kaveh Shojania boldly state, "[s]ome of us can't be bothered to wash our hands before examining patients." 20 Indeed, some studies show that the failure to properly wash ones hands is inversely related to status: physicians are less likely to wash than nurses' aides. 21
One might expect to find better hand washing rates among those HCWs caring for an intensive care unit (ICU) or emergency room patient, the exact opposite is true: hand washing rates in ICU's are consistently lower than other hospital areas. 22
The lack of hand-washing is responsible for almost all of the germs spread in pediatric intensive care units. In fact, pediatric ICUs experience up to three times the number of infections as other hospital areas, including operating rooms. 23 It is true that overall infant mortality rates continue to decline inside U.S. hospitals, however records show the rate of lethal pediatric infections acquired in hospitals is steadily rising. 24
At a 1997 conference of infectious disease experts, Dr. William Jarvis, chief of the investigation and prevention branch of the hospital infection program of the CDC stated, "Infections are most often transmitted from patient to patient on the hands of healthcare workers. If they would just wash their hands between all patients, I wouldn't be standing up here lecturing on prevention." 25
Last upate on: 10/03/06
---